Customization Cooperation



Do you want your customers clinging to your websites? Do you want your Web traffic over the Internet bring you extra income? Do you want a high-quality browser matching with your website? If you are willing to cooperate with Acoo Browse Development Team, we will customize an excellent browser for you for free, so you can easily achieve these purposes .If you have a website or you are a webmaster, we sincerely hope that we have a good cooperation with you to achieve a win-win goal.
If you have cooperation intention, please contact with us by E-mail:acoobrowser@gmail.com and MSN: acoobrowser@hotmail.com.
Benefits for free customized Acoo Browser version:
Acoo Browser is an excellent browser, which is secure, stable and efficient and loved by many users. It hasn't any other plug-ins, spy components and Trojan. You can uninstall it at any moment. The customized version inherits these characteristics.
Acoo browser will open your designated website automatically when Acoo browser runs every time. Even though user downloads the updated browser version in other places, homepage still does not change (expect users change it). It let your users browser your website more convenient, improve your website hit-rate and bring directly you a web traffic.
The title bar of the customized Acoo browser will show your designed website name or any other information, which makes a profound impression on your website users.
Our customized version can set your appointed search engineer as default search engine, which will bring you the direct economic benefits.
Your website can be added to homepage and help menu in our customized version, which still allows users find your website more convenient even if the homepage changed.
Our customized version will be regularly updated with the Acoo browser, which will make our Acoo browser better and better.
Our development teams are welcome to your advice and feedbacks, which can also provide an effective technical support with the partners.
If you can generalize our customized version in the prominent position of your website, we can add download link of customized version in our web download page.
You can also customize the notification of the customized new version. As long as you are our partners, all of the above benefits are free. Don't hesitate to contact with us.
Graphic Customization Representation
Open the website you appoint automatically when Acoo Browser runs every time
Show your designed website name in title bar.
Set homepage of the customized version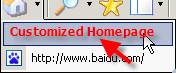 Customize the search engine
Show your website name in help menu of the customized version
---